ELECTRIFICATION OF THE ECONOMY
In the upcoming series of Investment Insights, we plan to explore several key trends in the industry transitions toward a low-carbon and ESG (environment, social and governance)-aligned economy. We believe that the scale and acceleration of these transitions represent long-lasting investment opportunities, as well as make a critical impact on the journey toward a clean environment and equitable society.
Despite the great pandemic, 2020 continues to shape up as a year of great awakening in regard to climate risks. The intense and longlasting wildfires in Australia and California, with orange skies in San Francisco and Sydney reminiscent of scenes in science fiction, are poignant reminders how climate crisis is hitting hard at the heart of communities and bottom-lines of businesses. The wildfires contribute not only to increased carbon levels in the air, but also impact public health, already significantly burdened by the pandemic crisis. The science is clear. The accumulated carbon emission by human activities over the last few centuries, and its rapid rise in recent years, have greatly contributed to climate change.
The change in climate patterns has often led to more severe heat and dryness-induced wildfires on the West Coast of the U.S., storms across mid-America and flooding on the East Coast. Renewable energy sources, such as solar and wind, can play a key role in radically reducing our dependence on fossil fuels and decreasing carbon emissions in the U.S. and around the world. There has been a constant flow of positive developments recently in terms of a continued increase in the demand for renewable energy, corporate actions pushing for net-zero business transitions and supportive policies globally. Such an environment should be conducive to a long-term case for renewable investments.
Demand for renewable energy, such as solar, has experienced explosive growth over the last decade, at a 49% annual rate, according to SEIA (Solar Energy Industries Association)1 , thanks in part to a federal tax credit program and a rapid decline in the cost of solar production, often at levels now just a fraction of what it used to be. This rise in demand came from three sources: utility generation, residential and commercial installations (see Chart 1 below).
Although renewables currently make up about 40% of utility capacity on average in the U.S., the renewable generated utility exceeded those based on fossil fuel during the height of the pandemic in April and May, as it was simply cheaper to operate when adjusting for changing demand. We expect that renewables share will only rise as they have by far exceeded fossil fuels in regard to new capacity, responsible for about two-thirds of new utility capacity added according to SEIA.¹
Contrary to popular belief, renewable energy already accounts for far more employment than fossil fuel energy in the power generation business, with about 72% of the workforce. The solar industry alone hires nearly a quarter of a million employees (see Chart 2), the majority of which are related to installation and services that cannot be easily offshored, according to USEER.²
DECLINING BATTERY COSTS SPURS SOLAR SALES
Technological advancement solved one key issue facing renewables. Without adequate storage, solar cannot generate electricity at night or on a rainy day. The growth of electric vehicle fleets has contributed to an 87% decline in battery costs over past decade (see chart 4).5 Many solar installers reported that affordable storage makes solar installation more attractive and spurred the growth of solar panels.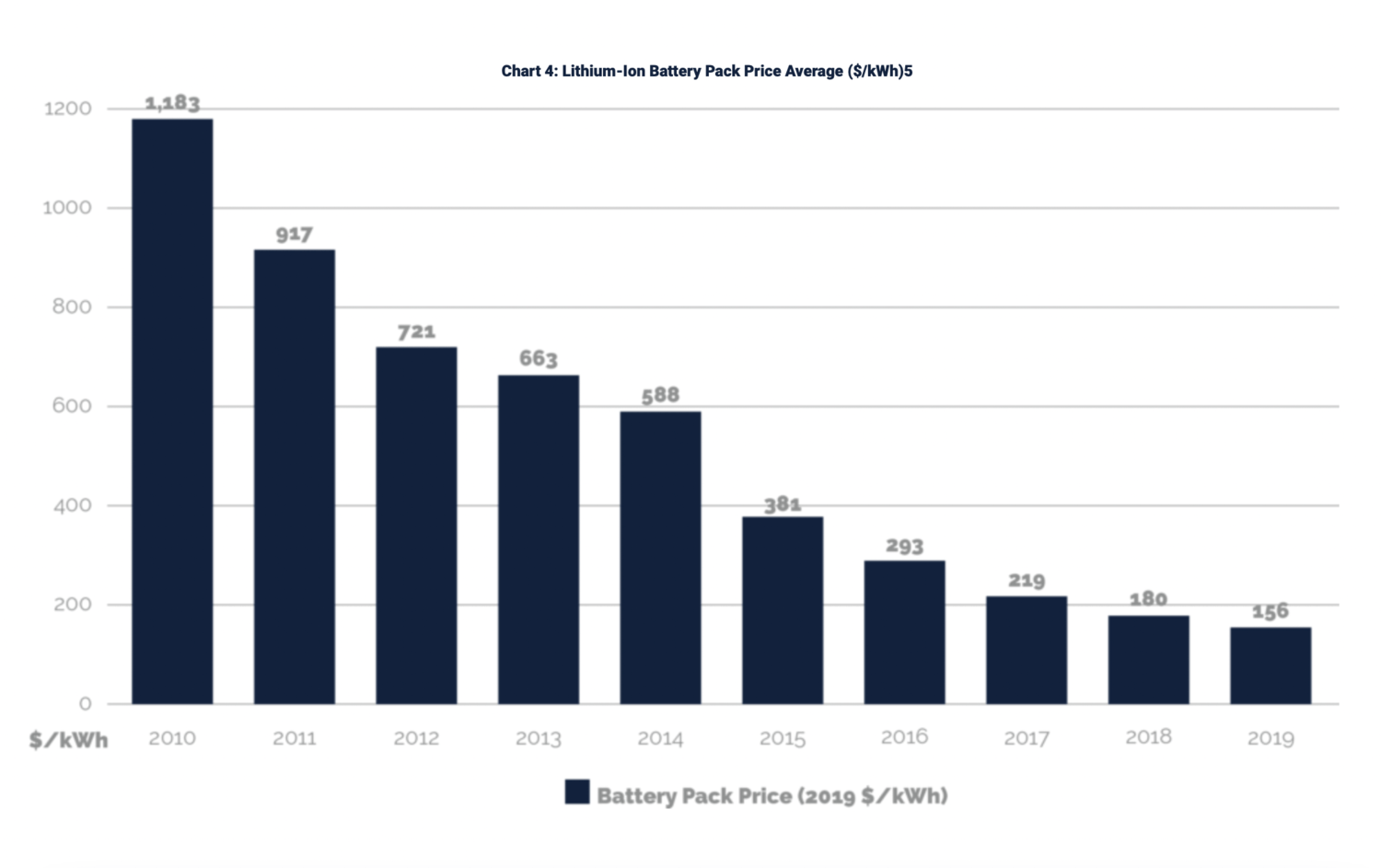 Corporate Activism on Net-Zero Targets
The pandemic accelerated, rather than slowed down, corporate climate actions. Many corporations have made carbon neutral pledges, including Apple by 2030 and Amazon by 2040. Google, Microsoft, Ford, Pepsi, Nike, and Starbucks are among others making similar pledges. The world's largest retailer went even further: Walmart has set zero emission goals without using offsets by 2040. The firm even asked its supplier community to make their own plans.
The massive corporate rush to meet net-zero emission is targeting large-scale solar panel installations and other renewables spending. In the past three years alone (as of 2019), corporate procurement has doubled the solar capacity installations.1 We expect an aggressive pace to continue as more firms rush to fulfill their pledges for net-zero carbon emission targets.
Global Supportive Policies on Net-Zero Economy
Many economies around the world have recently re-affirmed their plans to shift to clean energy to meet their climate goals under the Paris Agreement. In March, the European Commission proposed the EU Climate Law to reach carbon neutrality by 2050. At the latest U.N. meetings, two countries grabbed the headlines. First, UK's prime minster announced its ambition to power all residential electricity needs with offshore wind farms in 10 years, stating – Saudi Arabia is to oil, the UK is to wind. Next, President Xi of China unveiled a pledge of achieving net-zero emission for the 2nd largest economy in its entirety before 2060. As the world's largest manufacturing hub and carbon emitter, this speaks volumes. According to energy consultancy Wood Mackenzie's recent report, this implies that the country would need to increase solar, wind and energy storage capacities 11 times higher than current levels by 20506 , or about an 8.3% annual increase for next 30 years in my estimation. Despite its enormity, the goal could be attainable as the country is already a leader in production, technology and adoption of renewable energy, battery storage, electric vehicles, and other transitions to low-carbon economy.
In the U.S., the two political parties remain far apart on which path the U.S. will take toward or away from the net-zero economy. The Biden Climate Plan seeks to deploy $2 trillion in climate investment and sets a target of zero-carbon power sector by 2035 with a job creation focus. This would boost investments in all renewables, especially solar given its high employment in installations and services.
Conclusion
Both corporate and societal transition to a low-carbon global economy support long-term bull cases for renewable energy- and infrastructure-related investments. However, near-term risks remain. On October 10, the White House's proclamation of exploring tougher solar import tariffs might raise installation costs to consumers and hurt job growth. Obviously, the U.S. election next month will play a critical role in determining how soon and how far renewable investment themes can go, at least in the U.S.