In a year where we saw a resilient US stock market somehow manage to brush off COVID-19, political toxicity and loads of economic uncertainty on its way to all-time highs, 2020 likely reinforced investor's fixation with stock price appreciation. In the process, as happens maybe too often, a powerful investing tool remained less in focus: stock dividends.
Dividends have played an important role in the long-term performance of equities. Looking at the chart below, we can see that since 1990 began, dividends accounted for over 45% of the S&P 500's return.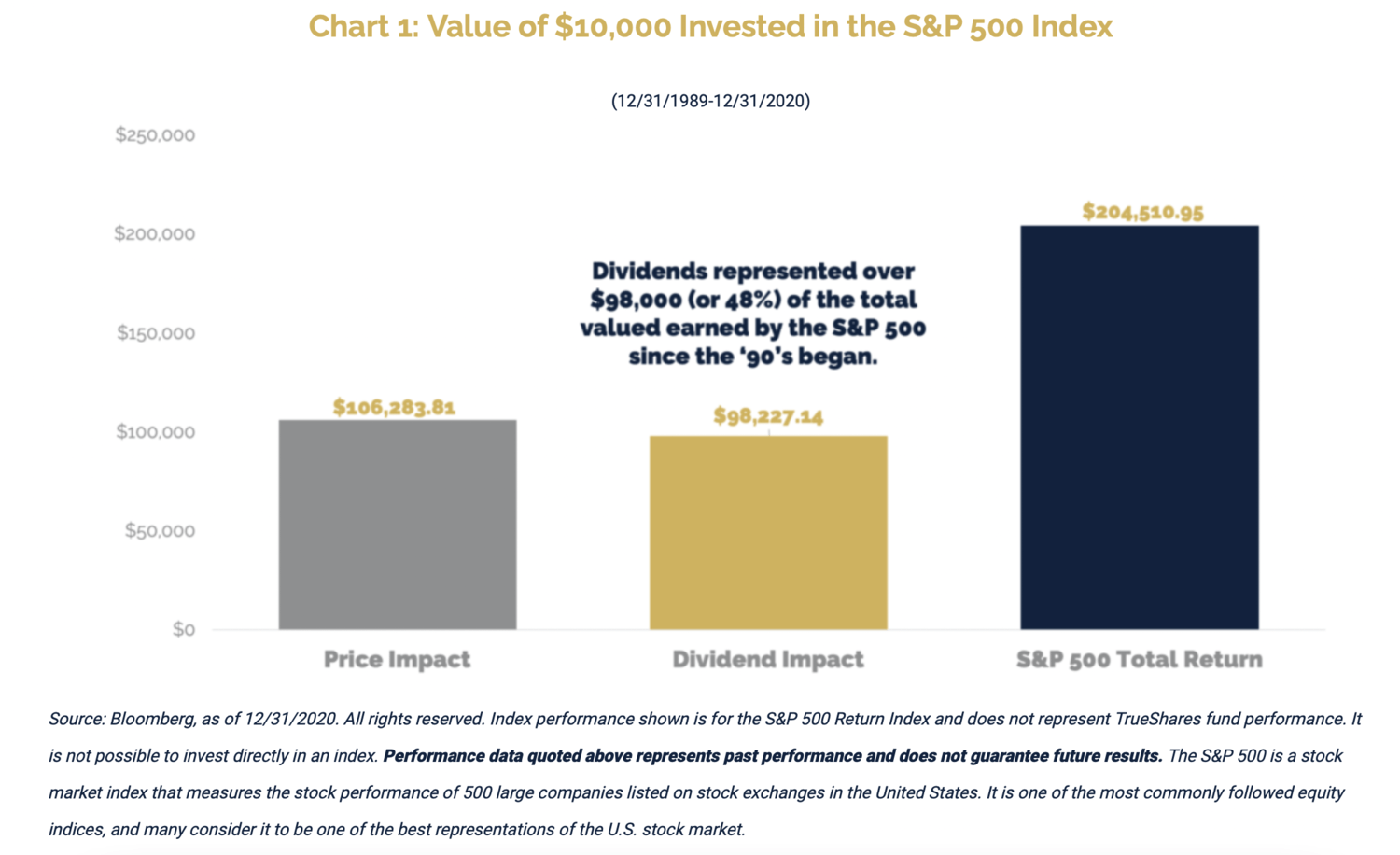 While stock dividends faced challenges early in 2020, with many companies cutting or halting dividends in Q2 in response to the coronavirus pandemic, this trend began to reverse in the back half of the year. US companies provided a net increase in dividends in Q4, with S&P Senior Index Analyst Howard Silverblatt forecasting for 2021 that "…absent a failure on the COVID treatment side, dividends should be impressive with the S&P 500 expected to post a new record payment."1
The outlook bodes well for investors as the 10-year US Treasury yield continues to trade near historic lows (as seen in Chart 2). In our view, with bond yields expected to remain persistently low for the foreseeable future, dividend-paying stocks not only present attractive yields today relative to U.S. Treasuries, they also offer the potential for dividend growth and capital appreciation over time.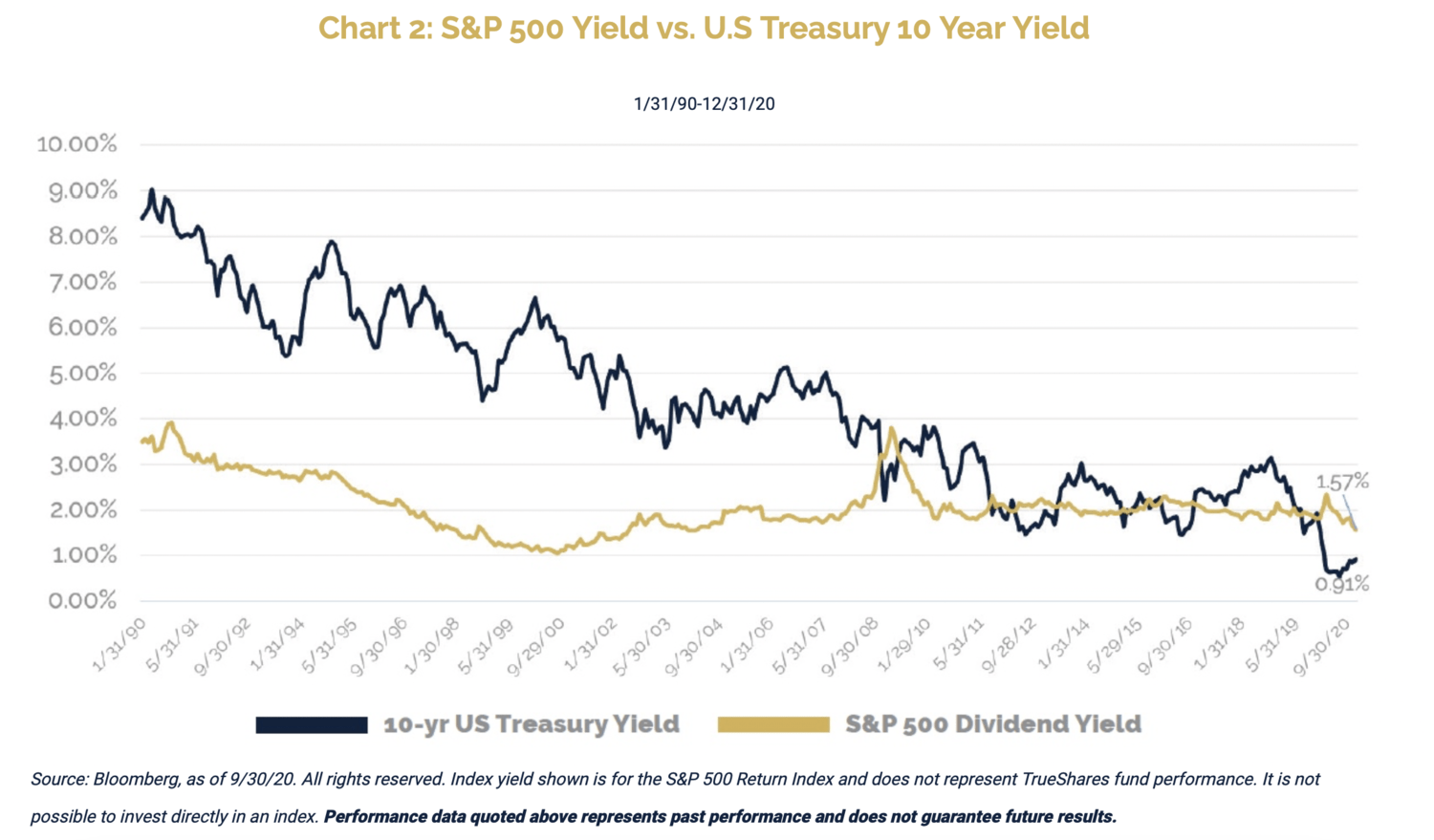 1: Source: S&P Dow Jones. https://www.spglobal.com/spdji/en/corporate-news/article/sp-dow-jones-indices-reports-us-indicated-dividend-payments-increased-9-5-billion-in-q4-2020-a-reversal-from-q3-s-2-3-billion-decline/
Dividend investing is a time-tested strategy and may be particularly attractive in the current low-yield environment. Importantly, investors should be wary of dividend strategies that simply screen for high-dividend-paying stocks. An actively managed strategy can help investors avoid stocks that are at risk of dividend cuts and instead focus on companies with the potential to grow their dividends over time.
Important Information
All investments involve risk including possible loss of principal.
The content herein includes the views, opinions and analysis of the investment manager as of the date of publication. These views and information are subject to change without notice, and are not meant to be a complete analysis of any market, industry, country, or company.
Certain information herein has been obtained from third party sources and, although believed to be reliable, has not been independently verified and its accuracy or completeness cannot be guaranteed. No representation is made with respect to the accuracy, completeness or timeliness of this document. TrueShares accepts no liability for any losses arising from use of this information and reliance upon the comments, opinions and analysis in the materials is at the sole discretion of the reader.
Before investing, investors should consider the Fund's investment objectives, risks, charges, and expenses. The prospectus, or summary prospectus, containing this and other information may be obtained by visiting www.trueshares.com and should be read carefully prior to investing.
RISK CONSIDERATIONS
The TrueShares Low Volatility Equity Income ETF may not achieve its objective and/or you could lose money on your investment in the Fund. The Fund is recently organized with no operating history for prospective investors to base their investment decision which may increase risks. Some of the Fund's key risks, include but are not limited to the following risks. Please see the Fund's prospectus for further information on these and other risk considerations.
ETF Risks. As an ETF, the Fund is exposed to the additional risks, including: (1) concentration risk associated with Authorized Participants, market makers, and liquidity providers; (2) costs risks associated with the frequent buying or selling of Fund shares; (3) market prices may differ than the Fund's net asset value; and (4) liquidity risk due to a potential lack of trading volume. Dividend Paying Security Risk. Securities that pay high dividends as a group can fall out of favor with the market, causing these companies to underperform companies that do not pay high dividends. Dividends may also be reduced or discontinued. Equity Market Risk. Common stocks are susceptible to general stock market fluctuations and to volatile increases and decreases in value as market confidence in and perceptions of their issuers change based on various and unpredictable factors including but not limited to: expectations regarding government, economic, monetary and fiscal policies; inflation and interest rates; economic expansion or contraction; and global or regional political, economic and banking crises. Market Capitalization Risk. The Fund may invest is securities across all market cap ranges. The securities of large-capitalization companies may be relatively mature compared to smaller companies and therefore subject to slower growth during times of economic expansion and may also be unable to respond quickly to new competitive challenges, such as changes in technology and consumer tastes. The securities of mid-capitalization companies may be more vulnerable to adverse issuer, market, political, or economic developments than securities of large-capitalization companies and generally trade in lower volumes and are subject to greater and more unpredictable price changes than large capitalization stocks. The securities of small-capitalization companies may be more vulnerable to adverse issuer, market, political, or economic developments than securities of large- or mid-capitalization companies and generally trade in lower volumes and are subject to greater and more unpredictable price changes than large- or mid-capitalization stocks. Depositary Receipts Risk. American Depositary Receipts ("ADRs") have risks similar to those of foreign securities (political and economic conditions, changes in the exchange rates, etc.) and entitle the holder to all dividends and capital gains that are paid out on the underlying foreign shares.
Index Descriptions: The S&P 500® Index is a widely recognized capitalization-weighted index that measures the performance of the large-capitalization sector of the U.S. stock market. Securities in the ETF's portfolio will not match those in any index. The ETF is benchmark agnostic and corresponding portfolios may have significant non-correlation to any index. Index returns are generally provided as an overall market indicator. You cannot invest directly in an index. Although reinvestment of dividend and interest payments is assumed, no expenses are netted against an index's returns. Index performance information was furnished by sources deemed reliable and is believed to be accurate, however, no warranty or representation is made as to the accuracy thereof and the information is subject to correction.
Foreside Fund Services LLC, distributor.