We began 2022 with a two-pronged mission: to deliver to our investors a core portfolio of US-based stocks that primarily generate revenues within our borders and to support the Folds of Honor Foundation in their endeavor to provide life-changing scholarships to the spouses and children of America's fallen or disabled military members and first responders. We're proud to say that we've delivered on this mission.
Per the Fund's prospectus, we must donate a majority of the sub-advisory fee or 100% of the profit derived from the management of the Fund, whichever is greater, to the Folds of Honor Foundation. In 2022, we gave more than 100% of our sub-advisory fee to the Foundation, helping sponsor numerous educational scholarships, and produced a net return 5.92% higher than our benchmark, the S&P 900 index. Yet, there is much more to do and your continued support of the Folds of Honor through your investment in the RiverNorth Patriot ETF (BATS: FLDZ) is not only appreciated by TrueShares, RiverNorth and the Folds of Honor, but also by the scholarship recipients who get an opportunity to achieve their goals in life, thanks to you.
To align the portfolio with our objective of helping those who have defended our country and freedom, we invest exclusively in companies that generate at least 90% of their revenues within the United States and are principally traded and domiciled here. To focus on the subset of more developed and liquid American companies, we also exclude any that have a market capitalization of less than $5 billion at the time of selection.
As a result of the Fund's mandate, there are some portfolio statistics worth noting. First, the Fund maintains a 99.6% geographic revenue exposure to the United States versus an estimated 61.5% for the S&P 900 – an active exposure of 38.1%. Second, the Fund's weighting to the Technology sector is 2.3% versus an estimated 26.3% for the benchmark. The allocation in the Fund away from Technology and into other sectors is primarily a result of the large companies within this sector who have relatively low revenue exposure to the United States. This is demonstrated below by looking to the geographic revenue exposure of the top 10 constituents of the S&P 900 index, where Technology sector firms are highlighted: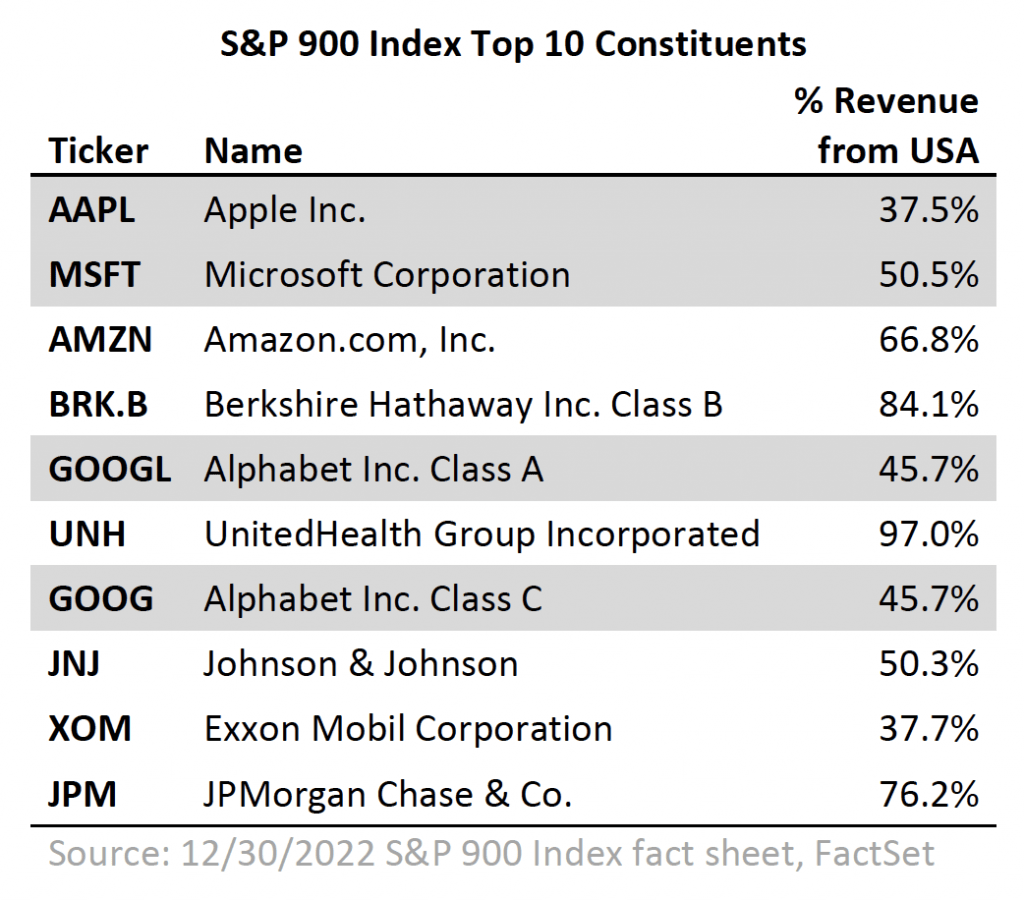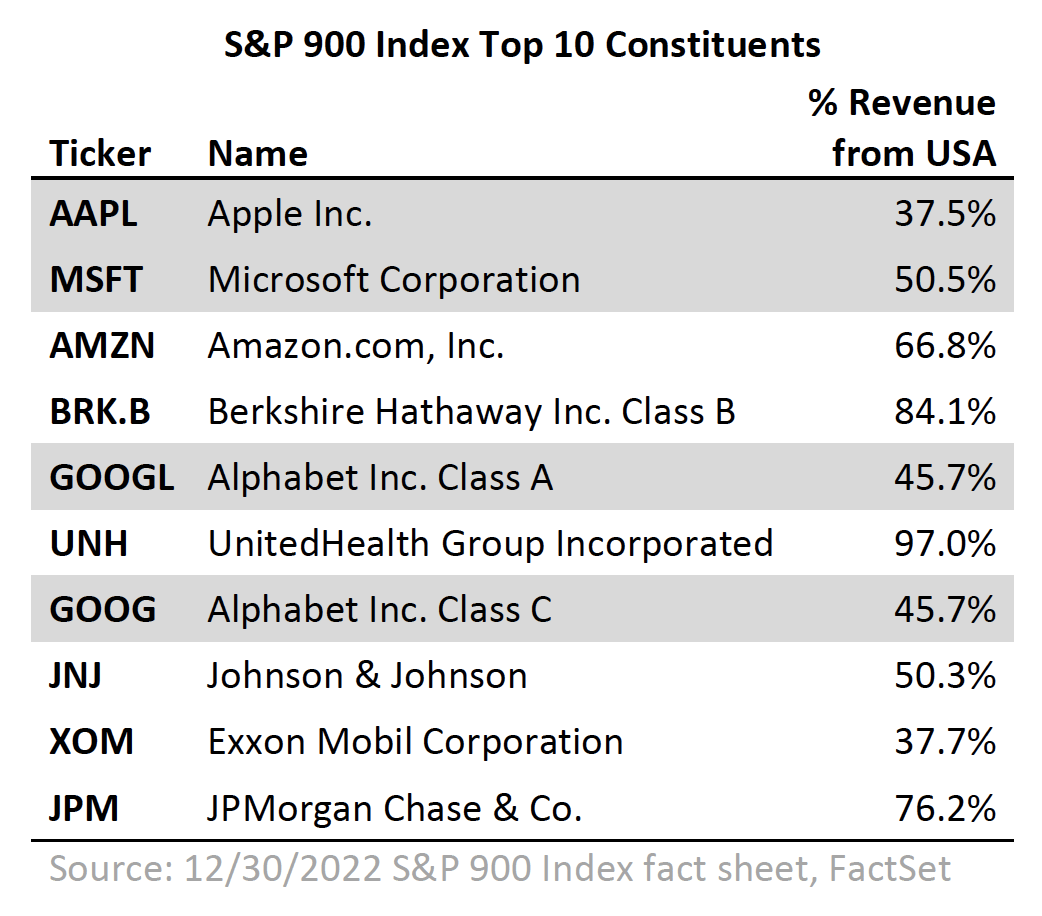 Since its inception on December 31, 2021, FLDZ has produced a net total return of -11.90% versus the S&P 900 gross total return of -17.82%. To view the most recent standardized and month end performance, please visit www.www.true-shares.com/fldz. As shown in the cumulative return chart below, FLDZ consistently stayed atop the S&P 900 throughout 2022. We believe the portfolio's tilt toward core and value stocks has been a strength in the Fund's inaugural year and that this tilt will likely add some protection to the portfolio should a US recession occur.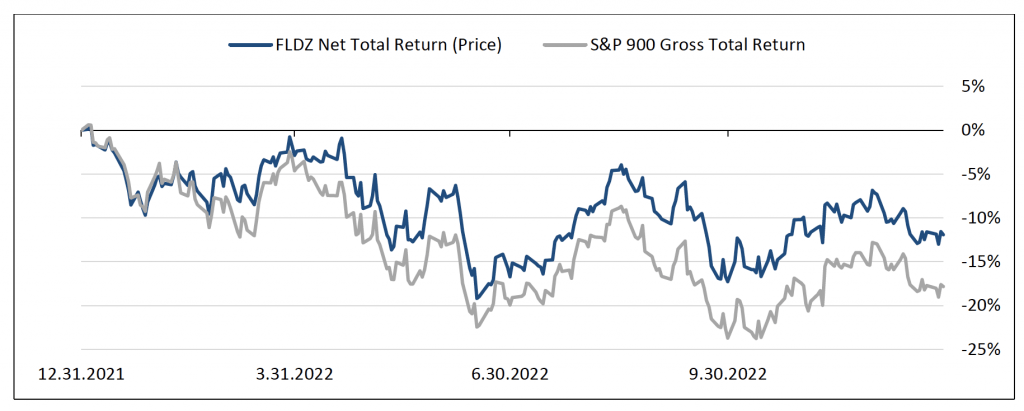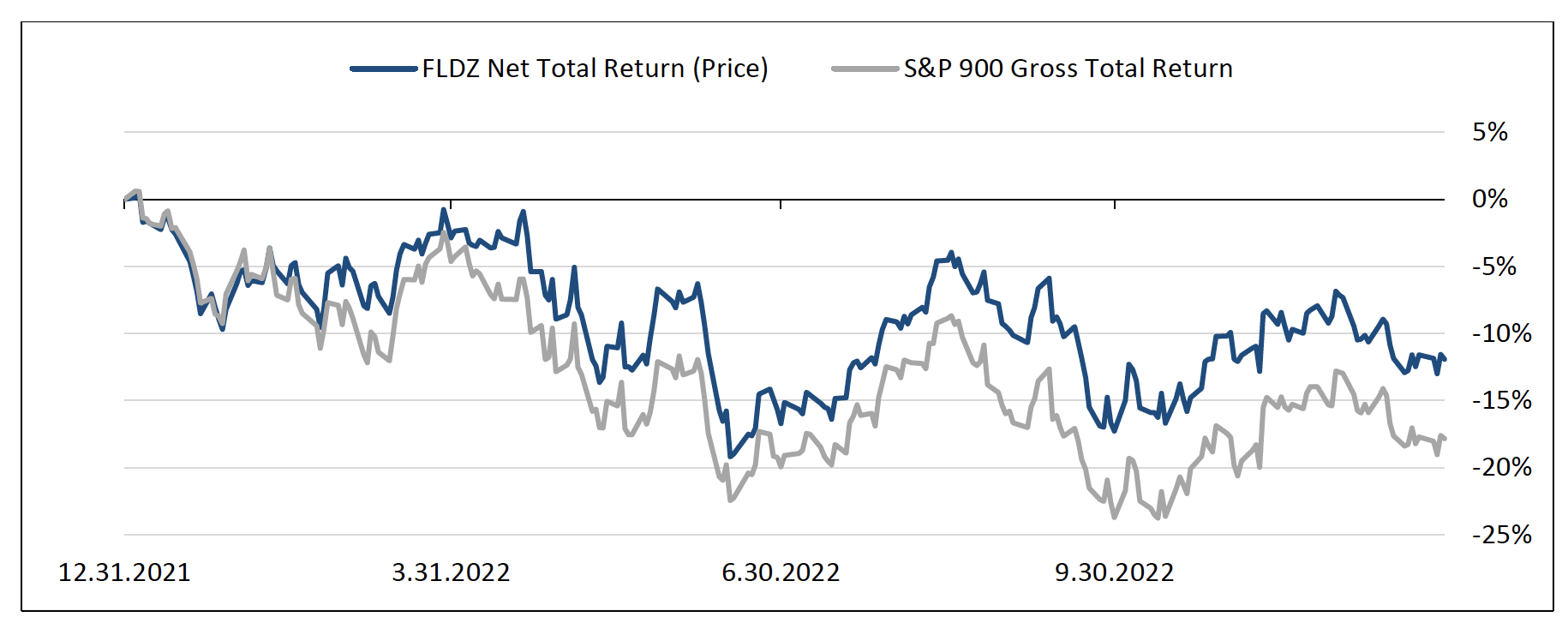 Top contributing categories to the portfolio's strongly positive relative performance are estimated to be Technology, Energy, and Utilities, where said differences are mostly attributable to relative sizing of portfolio allocations versus the benchmark. Top detracting categories include Industrials and Healthcare, where performance differences are more of a mix between security selection and allocation sizing effects1.
Below are some additional portfolio characteristics and performance statistics, as of year-end: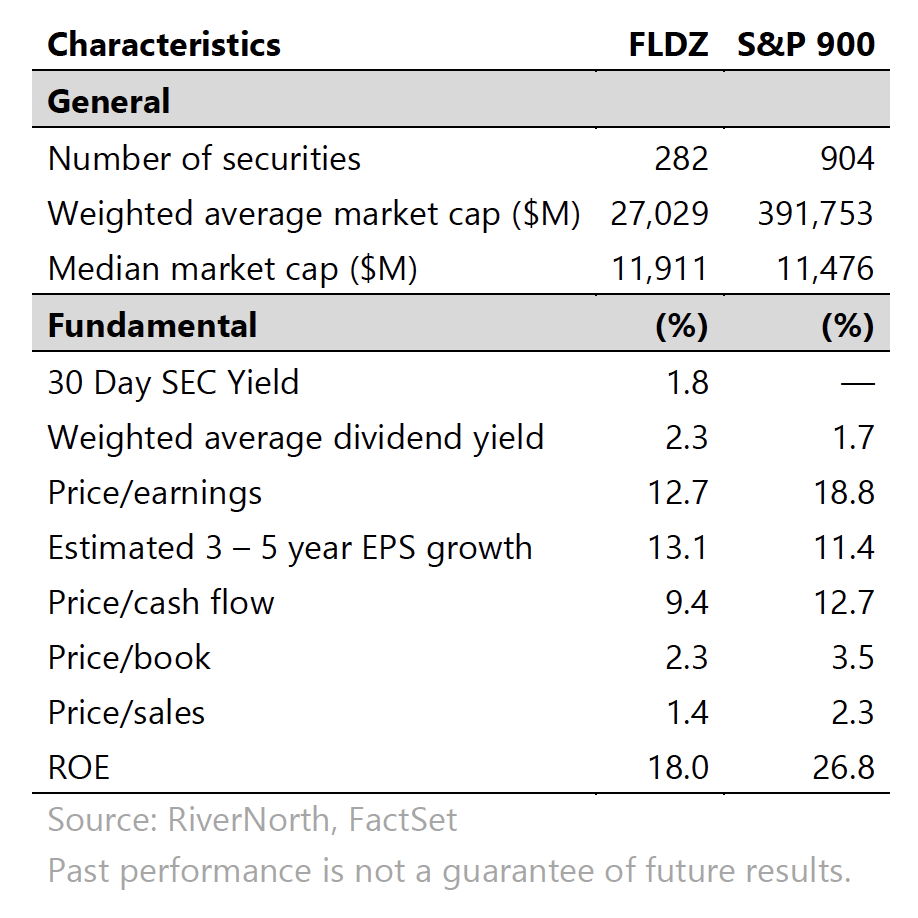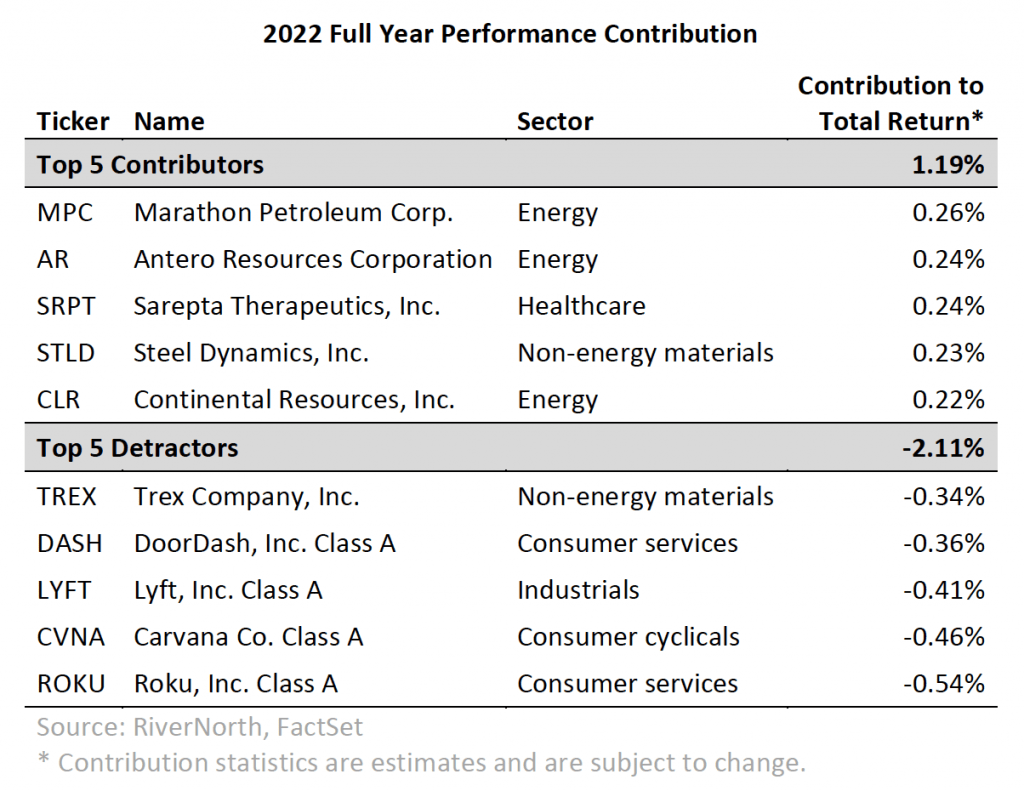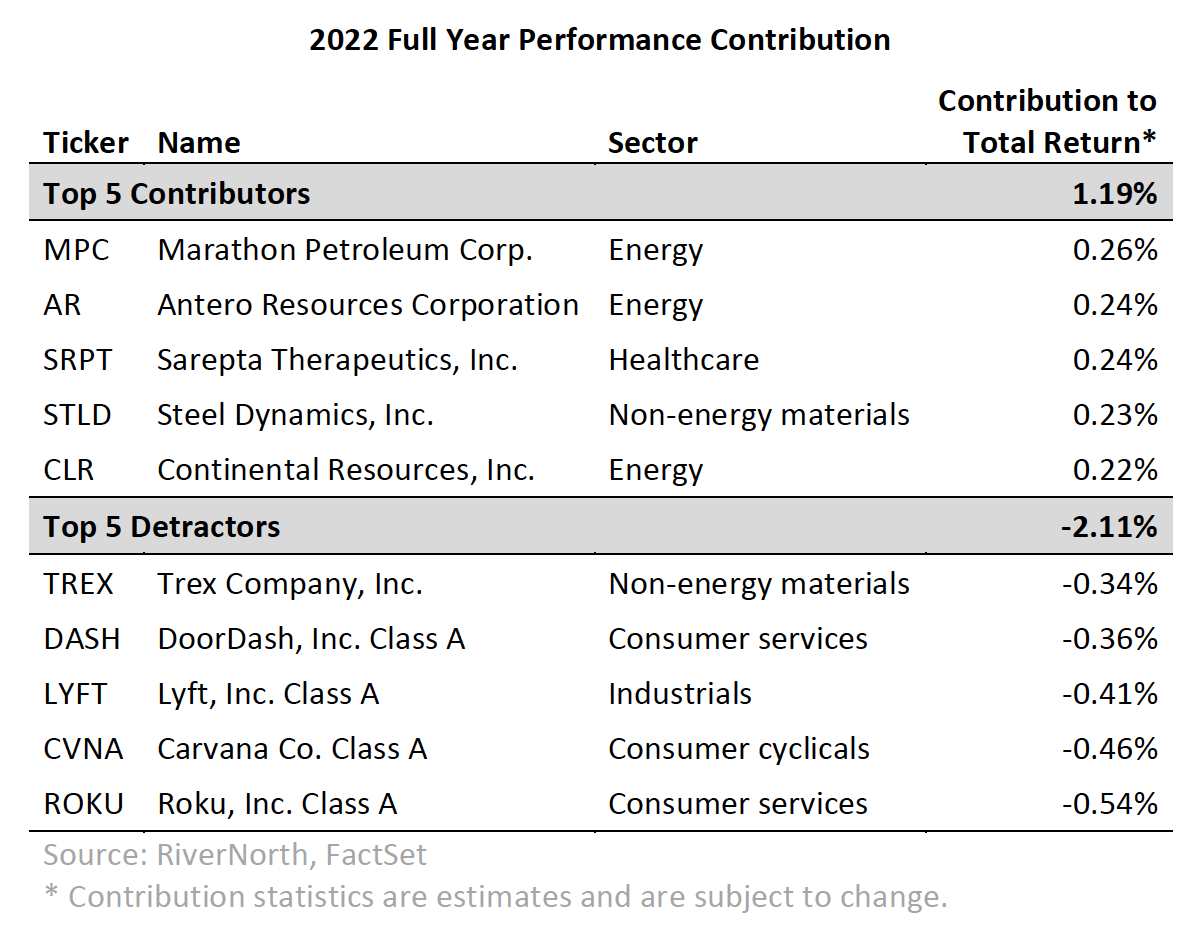 In reflection, this past year was not kind to capital markets in a historic way. Investors faced sustained geopolitical strife, decades-high inflation, elevated price volatility, and tightening monetary policy with nowhere to hide. It appears a regime change has taken place in markets and the days of near-zero policy rates, excess liquidity and high-flying growth stories are well behind us. So, what does the future hold? This is not a question one can ever really know the answer to as the future is just that: unknowable. That said, the United States has proven its resiliency and economic prowess over many market cycles in modern times and if the American principles of freedom and liberty engender ingenuity and strength in its people in the way we believe they do, there are many reasons to be optimistic.
We wish you all the best in 2023 and sincerely appreciate your support of our mission to give back to military and first responder families and add value to your portfolio.
---
1 – Past performance is not indicative of future results. An investment cannot be made directly into an index.
The S&P 900 is a stock market index that measures the stock performance of 900 large companies listed on stock exchanges in the United States.
This material must be preceded or accompanied by a prospectus.